Claim Justice Review
Introduction
Financial scams have become a big problem in this age of digital trading. Despite innovations like blockchain and cryptocurrencies in Fintech, most financial scam victims are unable to recover their stolen funds. By contacting professional scam investigation and funds recovery services like Claim Justice, anyone dealing with this issue can recover their stolen money and confidence.
What is Claim Justice?
Claim Justice is a scam recovery service for the victims of financial crimes. The firm is based in Tel-Aviv-Yafo, Israel founded by AWL Technology Ltd. and has been offering consultancy services for the past five years. Claim Justice has a dedicated research and recovery team of 127 employees who specialize in investigating and recovering online financial scam cases. The company aims to provide recovery services for victims of any and every type of online financial fraud in sectors like cryptocurrencies, online trading, account hacks, and many more.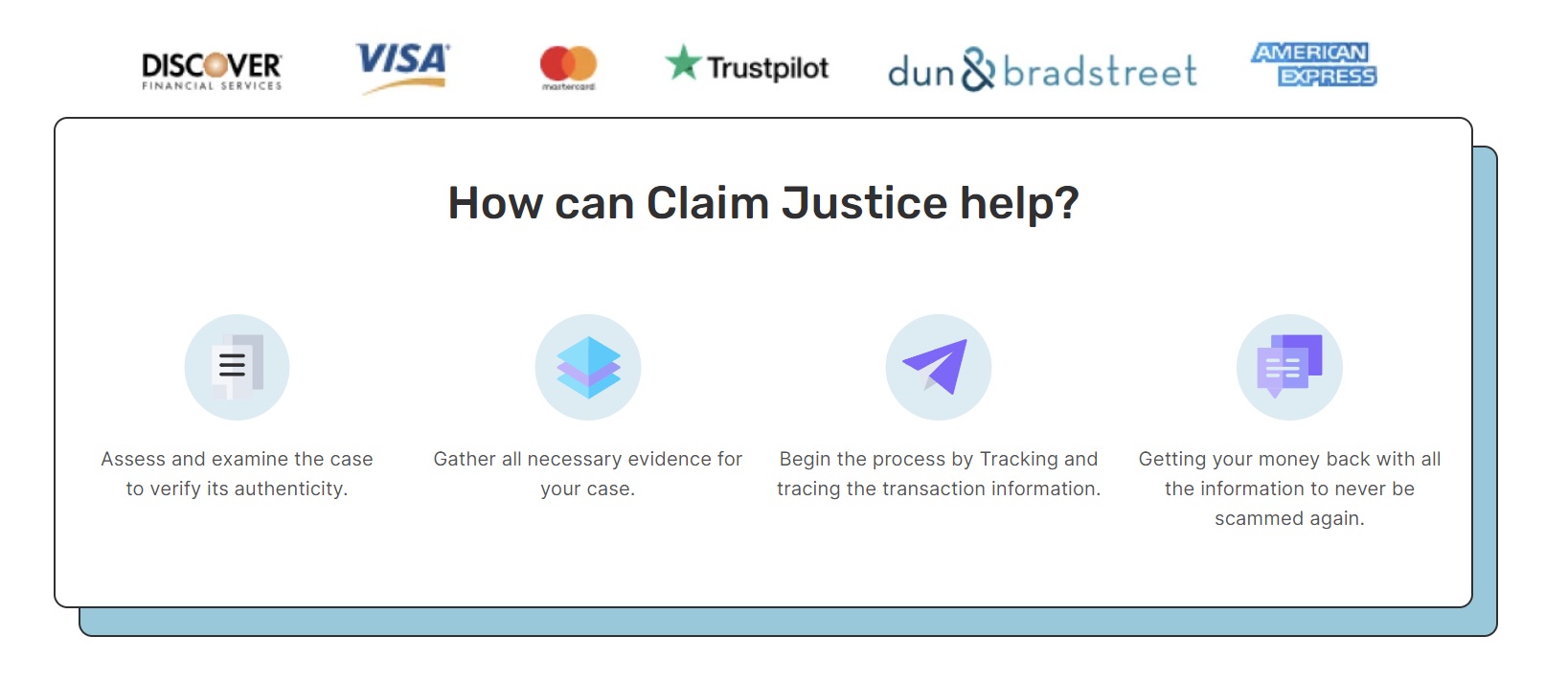 Claim Justice's Fund Recovery Process
Dealing with a financial scam takes a lot of energy and mental strength. Choosing the right recovery service and going through the recovery investigation process can be hectic and tiresome for already suffering victims of a scam. To lessen the burden on their clients, Claim Justice experts have introduced a 5 step funds recovery plan to make this process smooth, easy, fast, and effective.
In these 5 simple steps, victims of financial scams can navigate back to their lost funds and restore their mental peace:
Assessing the Full Value of the Losses: The Claim Justice experts try to estimate how much funds scammers had been able to get away with and is it possible to salvage or stop further losses.
Gathering All Evidence Connected to the Scam: Claim Justice's legal team tries to note down the fraud incident in chronological order and secure all documents, records, and clues in the light of regulatory guidelines.
Creating a Troubleshooting List: The Claim Justice consultants shed light on the weak spots and blunders that allowed the scammers to steal the funds from their victims to make sure that it does not happen again.
Tracking Down Scammers and Recovery: With all the necessary information at their disposal, the Claim Justice investigative team tracks down the scammers and recovers stolen funds from them.
Preventive Measures: The Claim Justice consultants assist their clients in learning about cyber-security techniques and software that can prevent any future scams.
Why Should You Choose Claim Justice?
There are hundreds of funds recovery services listed on the internet. It is a real challenge to entrust Claim Justice among a sea of consultancies in the world. Here are some strong points that explain why you can trust a service like Claim Justice:
Testimonials: Claim Justice has shared video testimonials from its previous clients about their experiences. Furthermore, people looking to hire them can also read their reviews on Trustpilot.
Customer Services: Claim Justice provides 24/7 support for their clients. When the victim is dealing with a financial scam they can keep in touch with Claim Justice consultants through instant chat window and email.
Affordability: Claim Justice ensures that its clients have the most hassle-free and supportive experience on their scam recovery journey. The Claim Justice team usually charges a fraction of the stolen funds that they have recovered from the scammers.
Data Privacy: Claim Justice takes the data privacy of its clients very seriously. The company has introduced a detailed GDPR (General Data Protection Regulation) Compliance Statement and Privacy Policy on its official website.
Value-Added Services by Claim Justice
Blog and News
Claim Justice regularly posts news about the latest financial scams. These articles are published on the official website of Claim Justice in the News section allowing the investors to stay informed and alert against the various types of forex scams.
Free Consultancy
To give the best support to the victims of financial scams, Claim Justice offers free consultancy for all their first-time clients. Anyone suffering from a financial con can reach out to them via their official website and discuss their case without having to pay any advance fee.
Conclusion
Financial scammers thrive knowing that their victims will not be able to trace them or hold them accountable. With a reliable, professional, and trained team of Claim Justice, every financial scam victim can respond and retaliate against the scammers and reclaim their stolen funds.